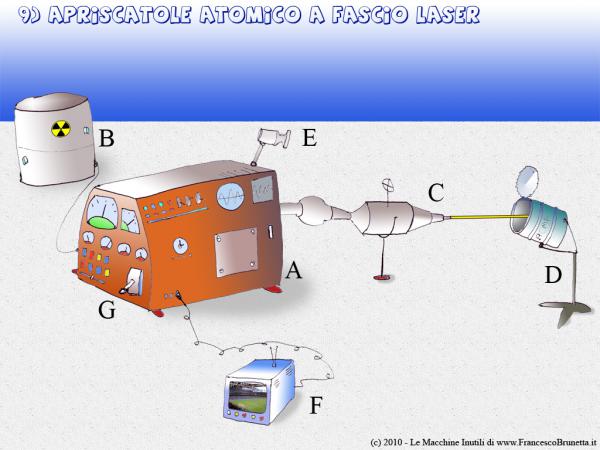 Finally comes the highly anticipated Atomic Laser Can Opener!
Open each type of box from now on will no longer be a problem with our Atomic Laser Can Opener!
The Central Unit (A) receives the power supply from a very comfortable Nuclear Generator (B) which, with a minimum production of radioactive waste, generates all the energy needed. The conveyor Laser (C) generates a laser beam that is focused on the box, comfortably housed in the Universal Holder (D), so opening the can. The whole process is regulated by means of the Optical Control Device (E), for an absolutely perfect result. The Television Unit (F), optional, allows both live viewing of the whole process, and the tuning on the most modern digital TV channels (why  losing the final of the World Cup, just because you have to open a can ???) .
Our wonderful tool also allows a double use: activating the Global Energy Limiter (G), the opener automatically becomes a handy laser pointer, very useful in case of presentations, courses, conferences, to attract the attention of your audience.
So versatile, our Atomic Laser Can Opener!
PS to prevent fire and victims, do not forget to activate the limiter (G) before using the opener as a pointer.