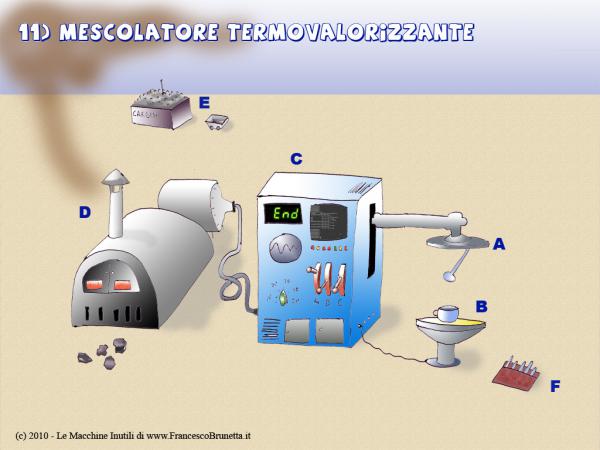 Free yourself from tedious effort to stir the sugar in your "cappuccino", with the new Incinerating Mixer!
The Rotatinh Mixer (A), allowing you to mix the cup placed on the Universal Holder (B), is connected to the control panel (C); thanks to the special variator, you can change the speed rotation of the mixer, from a minimum of 10 to a maximum of 500 revolutions per minute!
The electrical power required is supplied to the mixer by an extraordinary Incinerator Unit (D) capable of enhancing the thermal energy of any organic fuel. Exceptional offer: the first 200 tons of coal (E) are provided with a very advantageous discount of 25% !!
In every package of our Incinerating Mixer, we include a convenient set of 5 spoons and teaspoons parts (F), of various sizes and formats!
Do not miss the Incinerating Mixer: mix anything!